The 6th annual Tampa Bay Sneaker Soiree honors the best in Tampa Bay sports and sports business with their annual "off the field" event.
 For the sixth year in a row, Levy Recognition was honored to be able to design custom awards for the event.
This year's awards were a custom acrylic piece highlighting the determination and community effort found in our sports community. The two-piece acrylic award has a sneaker and "celebrating excellence in sports" popping out from the main background.
The event centers on three awards (as per the Tampa Bay Sports Commission):
Lee Roy Selmon Lifetime Achievement Award recognizes an individual's lifetime support of the Tampa Bay sports community.
The Freddie Solomon Moral Courage Award is bestowed on an individual who displays courage in the face of adversity.
The Tom McEwen Community Advocate of the Year Award can be presented to a person or a group of people who have gone above and beyond to support and advocated for sports in Tampa Bay.
This year's winners included:
Lee Roy Selmon Lifetime Achievement Award: Chi Chi Rodriguez
When accepting his award, Rodriguez spoke on the importance of this award for him, stating he had won a lot of golf awards, but this one meant the most because he won it from the heart.
Freddie Solomon Moral Courage Award: Jake Hamption, Sickles High linebacker
Tom McEwen Community Advocate Award: Jack Harris
Harris is a sports broadcaster in the Tampa Bay area. He was asked to present the award; unbeknownst to him, he was the winner! A video of him reading his name off of the prompter at the rehearsal was shown during the ceremony.
Sports Community Heroes: Meredith Bissette. Bissette miraculously survived cancer that was at first diagnosed as untreatable. She can now return to school at USF and continue playing softball.
Under Armour "I Will" Award: Lizzie Dolan. Dolan organized the "X Out Cancer" 5K for John Hopkins All Children's Hospital in St. Petersburg. The 5K raised $47,000!
USF Moment of the Year: USF's win against Temple which secured them their bowl eligibility
Rays Moment of the Year: Centerfield Kevin Kiermaier won Platinum and Gold Glove Awards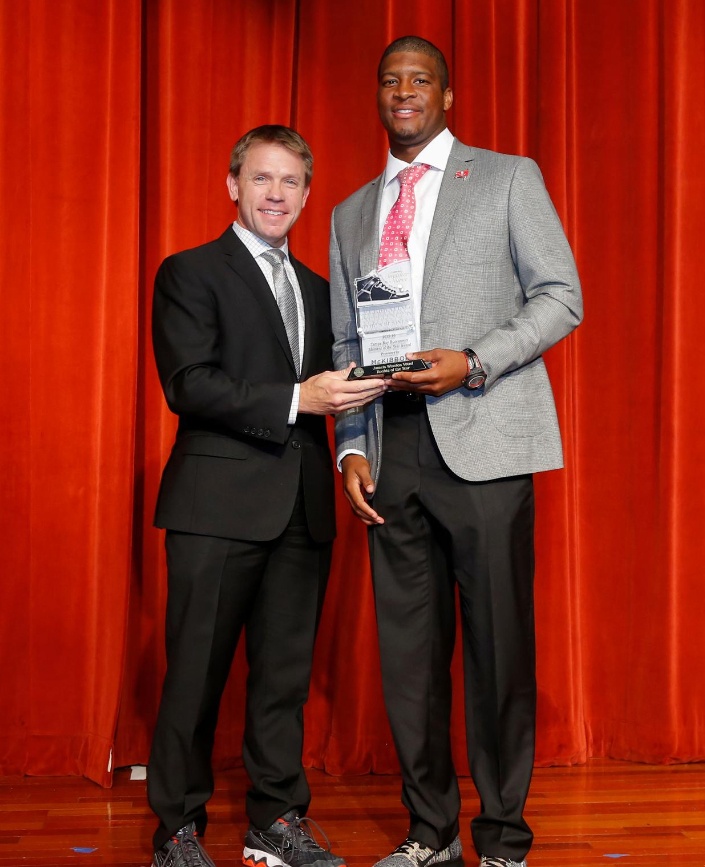 Bucs Moment of the Year: Quarterback Jameis Winston being voted as NFL Rookie of the Year by fans
Lightning Moment of the Year: Round 2 of the Stanley Cup versus the NY Islanders
Sports Community Moment of the Year: 2016 NCAA Men's Frozen Four
Thank you to the sponsors, especially the Tampa Bay Sports Commission, for hosting an event recognizing the great sports teams we have in Tampa Bay! We love designing custom sports awards, and can't wait to see what our teams have in store for us next!