Tampa is growing; in population and industries. It was recently voted the best city in the Southeast. With industries ranging from pharmaceutical care to jewelry creation to cleaning services, the competition to be the best of the best is rough.
The Small Business of the Year Awards tries to do just that, though. They highlight the small businesses that are making a difference in the community and are setting a standard for others.
The Awards ceremony is held annually, and this year they celebrated their 35th year! The theme was "architects of success," for these businesses are continuing to grow Tampa and forge it into the metropolis it is today.
The awards are divided into four categories: Start up, 5-20 employees, 21-50 employees, and 51-250 employees. The companies are evaluated on community involvement, ethical business practices, and operational management.
Levy Recognition was honored to make it to the semi-finals. We were also honored to design and manufacture the awards for the event. We love recognizing companies that are making a difference, and were happy we were able to have a small part in recognizing the impact of these companies.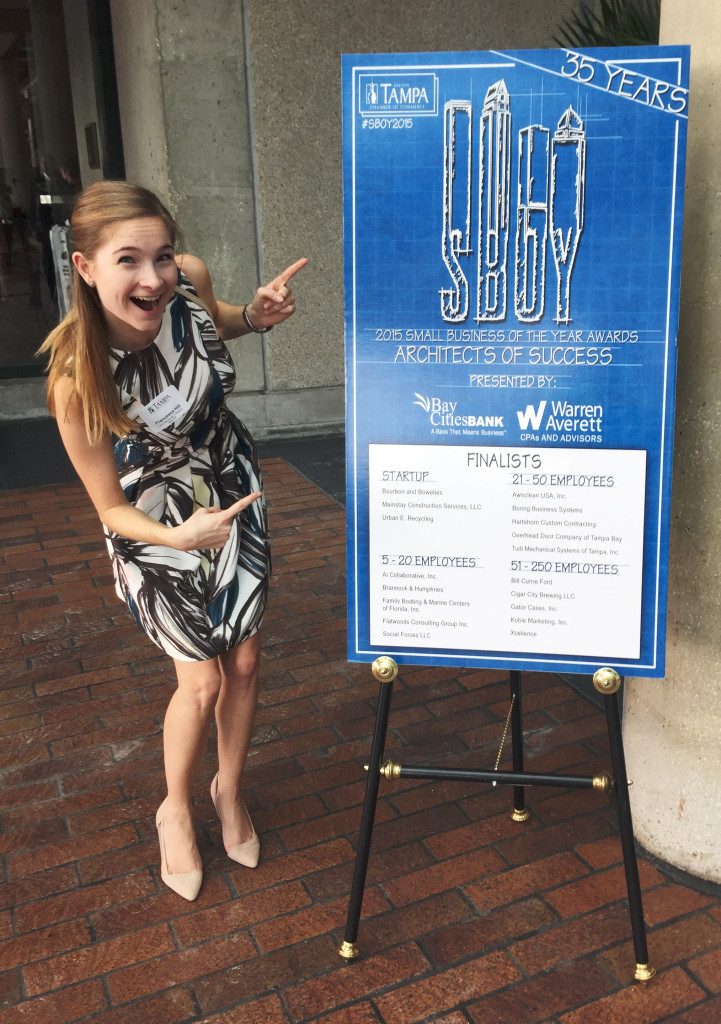 This year's event was held at the Straz center. It kicked off with a ribbon cutting from Mayor Bob Buckhorn of Tampa.
From there the awards were presented to each winner—with the audience waiting with bated breath.
Start Up: Bourbon and Boweties:


Bourbon and Boweties is a jewelry company; they design bangles with large stones wound together with wire. The company began with Carly Ochs, the owner, making bracelets for her family and friends, and has now grown to her employing over 300 people in the Tampa bay area. She contracts out the jewelry-making, with the majority of it to stay-at-home moms.
5-20 employees: Flatwoods Consulting Group, Inc:


Flatwoods is an environmental consulting agency– they help their clients navigate environmental regulations. The company started with two biologists who took a leap of faith and has now grown into a small business of Tampa. As one of the co-founders stated in his acceptance speech, "we're just a bunch of biologists." A bunch of biologists making a huge difference!
21-50 employees: Tudi Mechanical Systems of Tampa, Inc.:




Tudi Mechanical Systems focuses on commercial heating and air conditioning services, as well as design-build projects and preventative maintenance. The company is full of enthusiastic employees, who did a fierce chant every time their names were mentioned. Bob Tudi built the company up, starting with just his pickup truck and $4,000, to become the go-to partner for building management in Tampa.
51-250 employees: Bill Currie Ford:


Founded in 1960, by the current CEO's grandfather, Bill Currie Ford has now been family-run for three generations. The family dedication to the business and each other is clearly noticeable; father and daughter had some touching moments on stage when accepting their award. Bill Currie Ford has become not only a premier car dealership in Tampa, but they have worked for over 50 years on forging ties with the community. Their efforts extend past Tampa Bay, though; most noticeable with the entire staff wearing red on Fridays to honor the service men and women of our country.
Congratulations to all of the winners!
It was a wonderful night of celebration. Thank you to the Tampa Chamber of Commerce for hosting an event benefiting the impact of small businesses (and for the great food!).